February 25, 2021
I hope you and your families continue to remain cautious, vigilant, and healthy as we continue to fight against the COVID-19 pandemic.
It has been over a year since the first case of the coronavirus emerged. For me, it's been almost a year since I arrived in Kathmandu, Nepal, en-route to Bhutan. Just days before I was set to enter Bhutan, my plan to visit our projects was cancelled, as the Paro Airport swiftly shut down and Bhutan closed their international borders. Despite not being able to visit projects on the ground, our teams in DC and Bhutan continue to meet frequently over zoom to carry out most of our projects. With your support, we donated equipment and supplies to hospitals, provided a grant to His Majesty's Kidu Fund for Covid Relief, and supported those most impacted by the pandemic. We remain grateful to you for your support during this critical period.
For most developing countries, the long-term economic impact from the pandemic is unfathomable and will be felt for years to come. The Bhutan Foundation is working with local partners to create programs that address Bhutan's food security and employment and will have a lasting impact. We support activities that promote sustainable farming, increased agricultural production and local food product development. We also support young entrepreneurs to address the challenges of the food supply chain and distribution.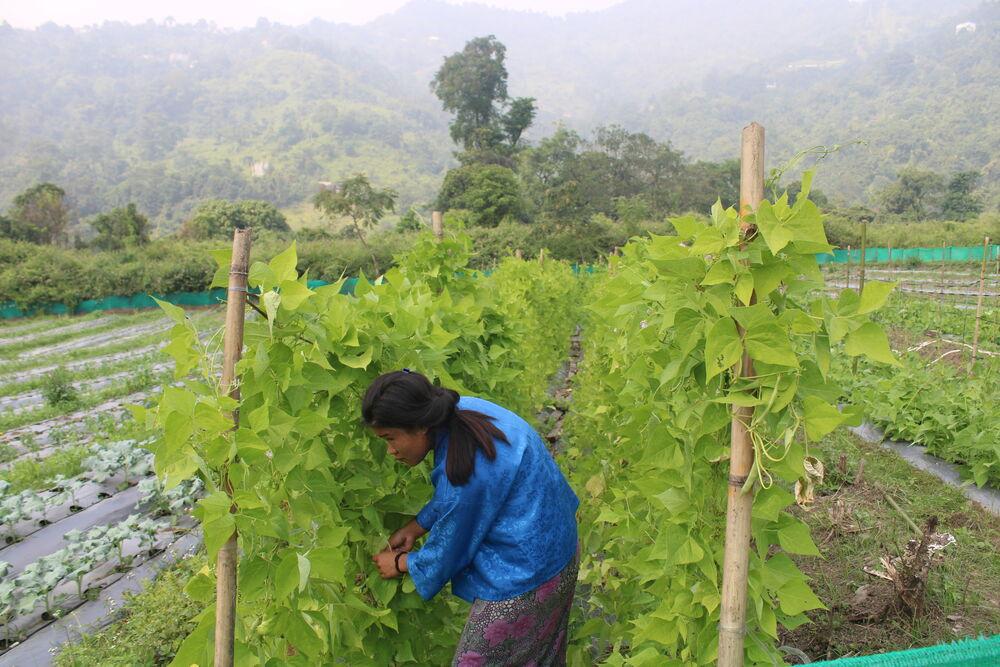 As an example, Bhutan imports most of its crops during the winter months and rural communities in southern and eastern regions often suffer from food insecurity. As a result, we are working with the Samdrup Jongkhar Initiative (SJI) and the Tarayana Foundation to introduce winter crop farming to these communities. This winter, we supported SJI to set up 15 urban organic farms in Dewathang (eastern Bhutan), which is turning into a model farm for many aspiring urban farmers. The farm employs local youth who were impacted by the pandemic to cultivate chili, beans, spinach, broccoli, cauliflower, tomato, onion, and cabbage. They are also cultivating 2.5 acres of mustard. Inspired by this project, many other farmers and housewives of civil servants have started growing vegetables nearby.
With the Tarayana Foundation, we supported the introduction of organic farming and winter cropping to 249 households in Sarpang and Samtse (southern Bhutan). This winter, the two communities planted 10 crop varieties such as cabbage, ginger, chili, potatoes, squash, pumpkin, spinach, millet, quinoa, and rice. These new crops will help the communities become self-sustaining, as well as provide a source of income.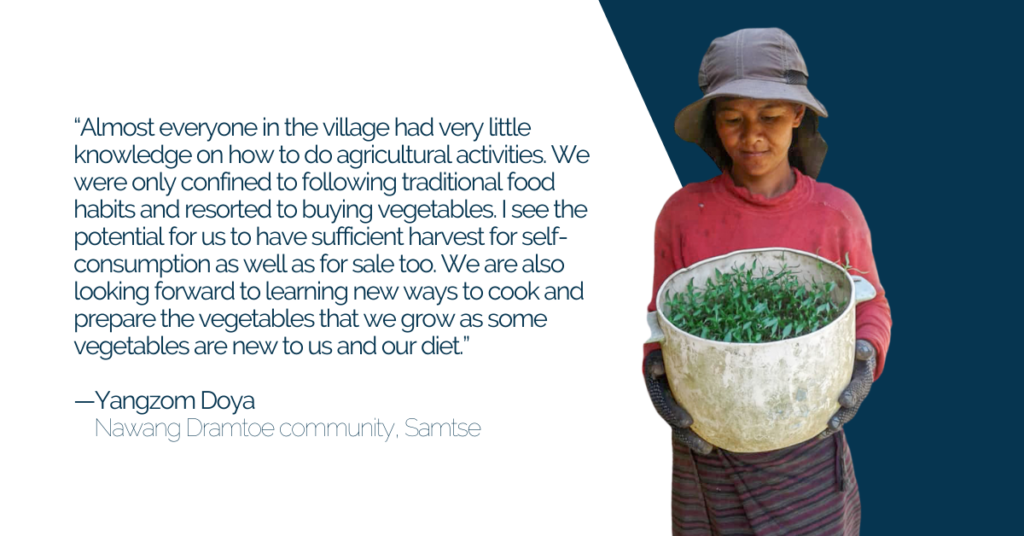 It's clear that supporting food security, sustainable agriculture, and employment opportunities, particularly for the youth and those affected by COVID-19, will be an increasingly important part of our efforts. Please be sure to keep an eye on our website for more updates in the coming weeks and consider giving to our sustainable development fund to help support ongoing and future work in Bhutan.