May 9, 2022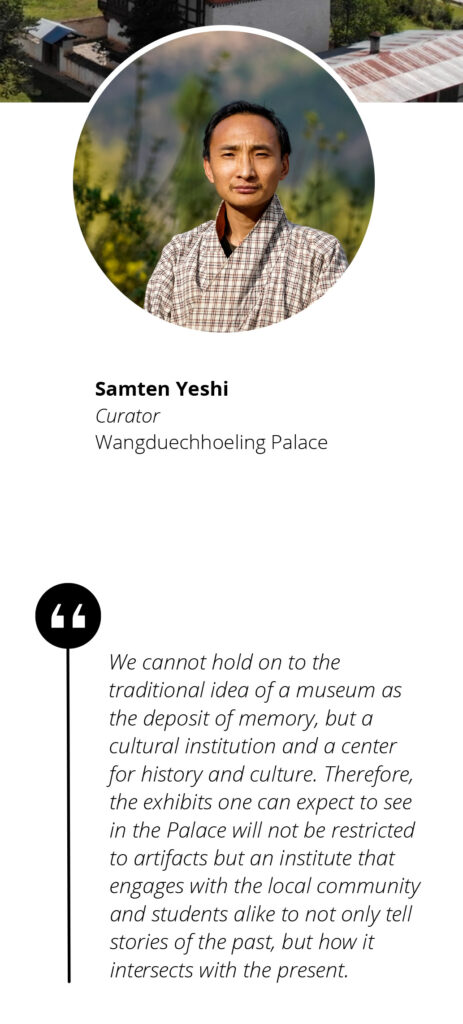 With more than 20 acres of land secured within its compound, the Wangduechhoeling Palace will ensure that this space is preserved for posterity to be enjoyed by Bhutanese and visitors alike. Coalescing with the Jampa Lhakhang and Kurje Lhakhang monasteries through hiking trails and riverside walkways, a much larger area in the heart of Bumthang will offer a spiritual, historic, and cultural reprieve even as Chamkhar urbanizes as an important town in Central Bhutan. The Palace will therefore form a critical space in the town planning of the spiritual heartland of Bhutan.
In addition to the painters, artisans, and builders who were trained on the Palace project, a team of Bhutanese architectural conservationists have put in years of detailed restoration work on the Wangduechhoeling Palace and have gained valuable in-house skills, which they can tap to restore other Bhutanese heritage structures. Already, the Tashi Deling company has restored the Tseto monastery in Paro and have also been asked to inspect the restoration of the Kuenga Rabten Palace in Trongsa.
The curatorial team for the Palace has been digging into the annals of Bhutan's rich history to extract exciting narratives, identify artifacts, and work with the museum design team to establish galleries that will evoke the history of Bhutan, Bumthang, and the Palace. Each gallery will showcase a unique collection of artifacts, manuscripts, paintings, religious relics, and more. The museum will also include hands-on activities for young visitors to interact and explore, along with an audiovisual section bringing the Palace's history to life. Most importantly, the visitor experience at the Palace is intended to send visitors on a journey of inquiry and investigation into the history and culture of Bhutan.
As the Museum and Cultural Center comes together, teams in Bhutan and abroad are preparing new lighting and signage and are also working to repatriate artifacts to Bhutan. We look forward to welcoming you at the Wangduechhoeling Palace soon.