March 22, 2023
Powerful photographs are essential for effective communication, marketing, and fundraising by small CSOs in Bhutan, yet many communications staff at these organizations aren't equipped with the knowledge and skills necessary to get the right shot. That's why Mr. Jon Kolkin of JK Fine Art Photography sponsored a two-day creative photography workshop for Civil Society Organizations in Bhutan in collaboration with the Bhutan Foundation.
Mr. Karma Jamtsho is a passionate photographer and Communications Officer at the Loden Foundation. Determined to participate in the free workshop and improve his skills, he rushed back to Thimphu on Tuesday, barely arriving on time from his project location in Eastern Bhutan. Today, he shared with us how important this workshop was for him.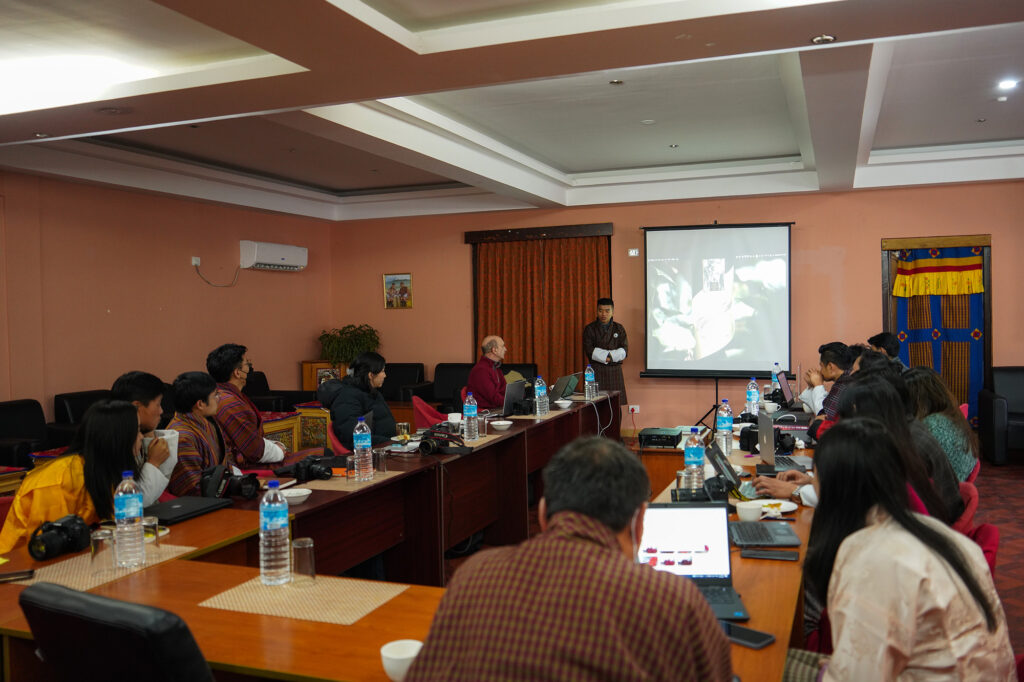 "This workshop presented an opportunity to improve my photography skills, which are essential for my daily work at the Loden Foundation. It was an event I was eager to attend, as such trainings come by very rarely, and I wish to express my gratitude to the Bhutan Foundation and Mr. Jon for organizing it. The workshop was highly beneficial for communications personnel working in CSOs and I hope similar training workshops will be organized in the future to continue to enhance our skills and be of better help to our organizations."
Like Karma, for the past two days, 18 representatives from different Civil Society Organizations were busy learning how to effectively communicate about their organizations and programs through impactful storytelling using professional photography techniques. They learned the basics of handling equipment, getting the correct camera settings and framing the subject for different purposes, and about available post-photo editing tools. They also learned about platforms to get their work out to the world after the photo is taken. On the final day, they presented a project on photography with a defined theme and objectives while learning about what goes into more extensive tasks for publications or an exhibition.
Tshering Dema, a project staff at the Bhutan Ecological Society, noted, "Until now, I didn't know the basics of photography. After some practical sessions from this workshop, I learned how to adjust camera settings for different photography methods. This practical training is essential for project staff traveling to the field and doing coverage. I will be interested in any similar training in the future too."
Most participants were communications officials responsible for disseminating the organization's programs and activities to a broader audience through print publications and online social media platforms. They were excited to get hands-on training with DSLR cameras and practical methods for using their smartphones to capture professional photos. The sessions also covered how to effectively tell compelling stories with a few photographs for effective communication, marketing, and fundraising for their organizations.