April 19, 2021
The economic and social impacts from the pandemic are especially tough for women, who are more vulnerable to domestic abuse, job loss, and financial insecurities. While focusing our efforts on tackling two of the government's main COVID-19 concerns, employment and food security, our projects have taken particular care to support women and women's groups. The Bhutan Foundation and United States Agency for International Development (USAID) are supporting programs that empower women farmers, self-help group members, food production workers, and women-led micro enterprises.
Regionally, women-led enterprises have successfully navigated the pandemic and have managed to tap opportunities to create jobs, contribute to economic growth, and reduce gender gaps. Even in Bhutan, women-led enterprises are leading on innovation in agricultural post-harvest value addition. We believe it is important to highlight the achievements of successful women entrepreneurs to motivate and highlight their contribution to the economy.
Chuniding Food
Chuniding is a women-led social enterprise with the mission to preserve and promote Bhutanese food culture. Although a small-scale enterprise, Chuniding Food incorporates all principles of the Royal Government of Bhutan's policy to substitute import, increase export, use local products, and generate employment. During the pandemic, Chuniding is working with farmer groups and the Food Corporation of Bhutan. In particular, Chuniding takes in the surplus produce from farmers that would otherwise rot and go to waste and produces innovative food products. The Foundation is supporting Chuniding to expand their production facility by purchasing commercial kitchen equipment and increasing working capital of food products in order to increase the absorptive capacity of the surplus produce during the pandemic. Despite cutdowns across industries in Bhutan, Chuniding Food, with the support of the Bhutan Foundation and USAID, has managed to not only retain their original staff, but also hired three new full-time and two part-time women workers.
Another organization the Foundation and USAID are supporting on food product development is the Bhutan Association of Women Entrepreneurs (BAOWE), a civil society organization that reaches out and empowers women and girls (particularly single mothers, unemployed youth, and women working in the informal sector) through entrepreneurship programs. BAOWE has over 4,000 members across 13 districts in the form of self-help groups and cooperatives. These women's groups are engaged in a plethora of agricultural activities ranging from rice, cardamom, turmeric, vegetables, mustard, and aromatic plant plantation to production of mustard oil, dairy products, and feed.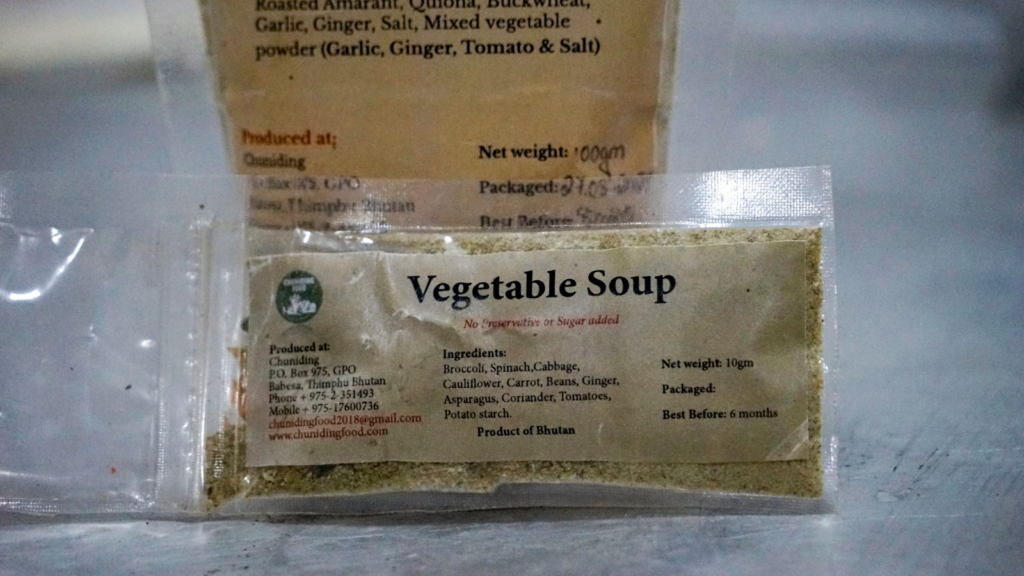 BAOWE helps women's groups with product development, labeling, branding, and marketing, focusing on assisting women farmers in reducing their post-harvest loss. The Bhutan Foundation and BAOWE plan to work with 420 women farmers in 10 self-help groups located from Zhemgang in south-central Bhutan to Bumthang in north-central Bhutan, all the way to Trashi Yangtse in eastern Bhutan to Haa in western Bhutan. The Foundation will also purchase equipment such as dehydrator machines, flour mills, mustard oil expeller machines, deep freezers, and turmeric grinders to support food processing and packaging. The project aims to promote value addition for women farmers and provide employment opportunities for women to alleviate poverty during the pandemic and beyond.
These programs are made possible with the generous support of the American people through the U.S. Agency for International Development in partnership with the Bhutan Foundation.
Check out more content from the Bhutan Foundation Update 2021 by clicking here!