April 22, 2022
In the first week of April 2022, Bhutan received 34 international tourists—the first group since March 2020. The local tourism industry is happy to see the gradual revival of tourism, especially individuals working in tourism and hospitality services whose livelihoods were affected by the pandemic. One group of hospitality-sector entrepreneurs, the Katsho Eco Camp, is particularly excited about the progress.
The 21-member group, made up mostly of laid-off tour guides, came together to boost local tourism in Haa during the shutdowns. With a grant from the Bhutan Foundation Small Grants Program and support from the local governments and leadership, the team established the Katsho Eco Camp in their home village of Haa. Their goal is to contribute toward resilient local tourism while creating opportunities for youth employment and new economic opportunities.
In 2021, the group started by developing an 11 km (~6.84 miles) hiking trail called the Haa Panorama Hiking Trail with initial funding support from the local government. The hiking trail was an immediate success, with locals taking advantage of the chance to stay healthy and active during the lockdowns.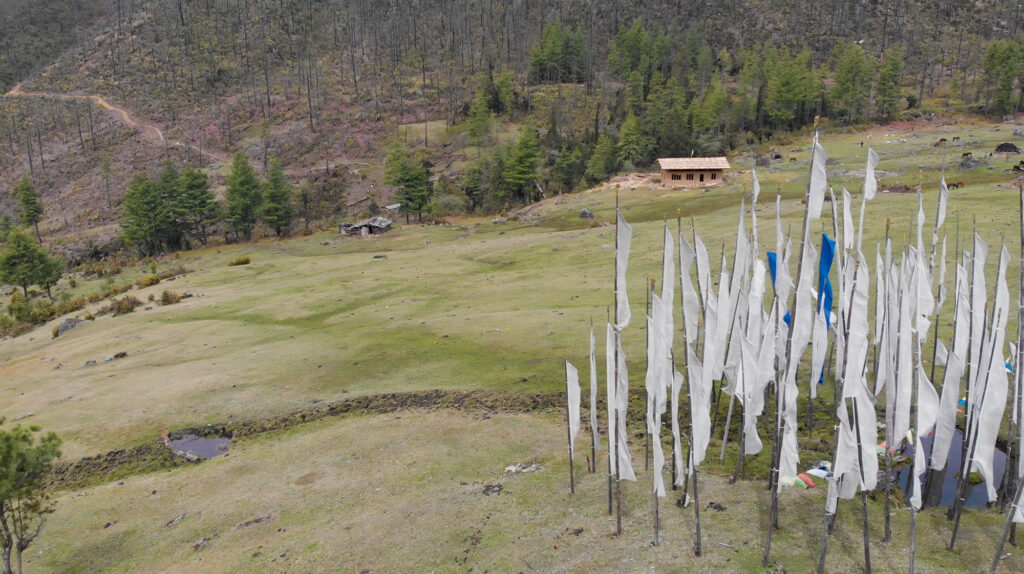 But their work didn't stop there.
In response to the growing popularity of the Haa Panorama Hiking Trail with local Bhutanese, the group realized the full business potential of establishing an Eco Camp at Damtoe. This new construction, under Katsho Gewog, will act as a resting place for travelers and a local space for events and activities. The area is the midpoint connecting all gewogs (sub-blocks), villages, and two significant monasteries of Haa. The surrounding campsite, covering an area of around 3.5 acres, is situated at an elevation of about 2,750 m (~9,022 ft) and promises outdoor activities like trekking, camping, fly fishing, birding, and cultural visits.
So far, the multipurpose hall made from traditional Bhutanese mud construction is nearly completed. As part of the project, an additional hot stone bath and public restroom are in progress. The Eco Camp will also have seven tents pitched for visitors. 
The Katsho Eco Camp group are recipients of funding from the Bhutan Foundation Small Grants Program. The project aims to boost tourism in Haa while helping communities gain income and curb rural-to-urban migration. The project also aligns with the local government's vision for sustainable local tourism development. Haa receives some of the lowest numbers of tourists in the country.