May 9, 2022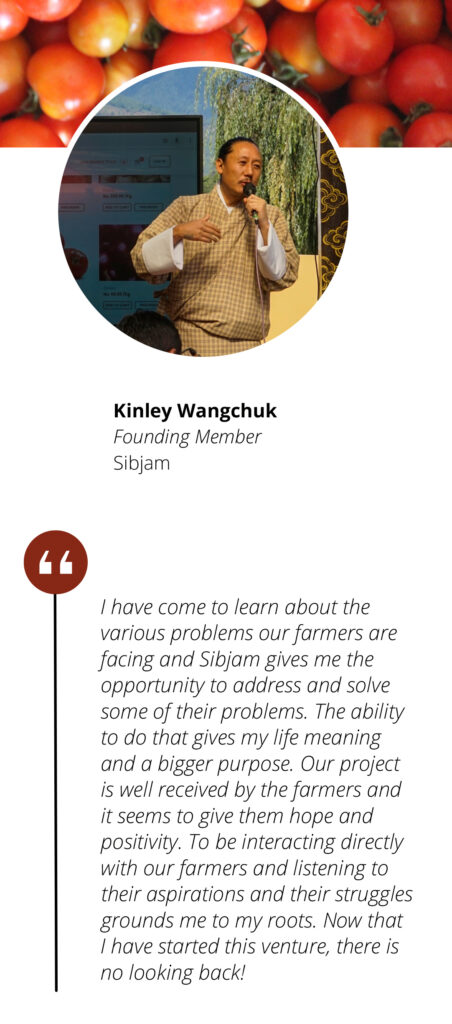 Border closures in Bhutan highlighted a broken agricultural supply chain back in mid-2020 when it became apparent that significant barriers still existed in connecting produce to local markets. In response, a local startup Sibjam developed an online marketplace for farmers to sell their products and for buyers to purchase local products at wholesale rates. They offer marketing and logistical services to farmers, allowing them to focus on production, and freeing up their time and resources from supply-chain issues.
The idea for Sibjam came to a local entrepreneur, Kinley Wangchuk, during the first lockdown in Bhutan in 2020 as he noticed the difficulties producers and consumers had with markets. Most of the farm products were left to rot due to supply-chain issues and farmers often incurred losses. Sibjam was officially launched in 2021 to ensure that there was an effective logistic linkage between the farmers and consumers to reduce waste of farm produce and to eliminate the middleman.
After the launch and appearing on Bhutan's national television, there has been a surge of interest from farmers, farm cooperatives, and consumers from across the country. For now, Sibjam delivers to major cities in Bhutan including Thimphu, Paro, Gelephu, Punakha, and Chukha districts once a week. In the coming months, they plan to expand their delivery service to other districts throughout Bhutan.
With the success of the online platform, the team is also set to open their first physical outlet alongside two shops, one for dairy, poultry, and meat, and one for grains and value-added products in Thimphu. They are also exploring a door-to-door delivery service on a subscription basis to establish a supply chain network, and starting a mobile vegetable shop using electric vehicles. Sibjam is one of six entrepreneurs supported through the USAID Covid Support to Bhutan grant facilitated by the Bhutan Foundation and the Loden Foundation.