May 3, 2023
THE WANGDUECHHOELING PALACE WAS ONCE a vibrant home to Bhutan's first Kings and Queens. Located in the Bumthang Valley, Bhutan's spiritual heartland and geographic center, it centered a network of caravan routes that criss-crossed the country before the advent of motorized travel, and was in a strategic position from which the country's monarchs could rule in the late 19th and early 20th centuries. The Palace served as a symbol of victory and the beginning of a prosperous and peaceful future for the nation.
After decades of disuse, the Palace had fallen into a state of disrepair. The Foundation, together with the Department of Culture, has since embarked on a multi-year project to restore and conserve the Palace to its original brilliance. With structural repairs, painting, and other restoration work and renovations complete, the project has now entered its second phase – the documentation and conservation of artifacts, as well as the planning and design of museum exhibits.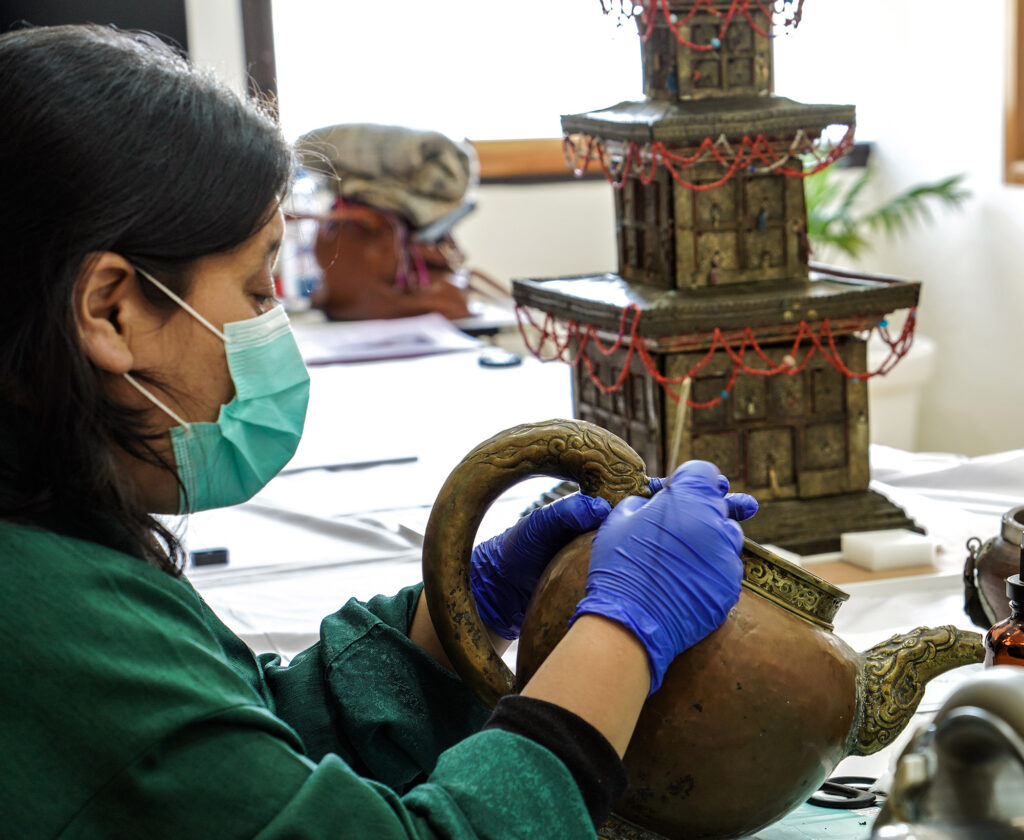 Centuries of dirt were meticulously removed to reveal a dragon's eye etched into an ancient Jamji (tea kettle). Ms. Utsha Gurung and her team from the Department of Conservation have restored many such artifacts in the past months, marking the start of the second phase of the Wangduechhoeling Palace Project, which will bring together museum galleries, exhibition designs, and a working royal residence to tell the story of Bhutan's national origins and provide a touchstone for its future.
A team of conservators, exhibition designers, master craftsmen, contemporary artists, and tech developers are collaborating to recreate the stories of Jigme Namgyel, father of Bhutan's first King, Ugyen Wangchuck, and his retinue. Visitors will be able to immerse themselves in these stories in the King's chamber and antechamber, as well as other galleries where they will discover the Wangduechhoeling Mela (Fair) – a widely attended celebration initiated by His Majesty Jigme Wangchuck, the second king of Bhutan.
These stories are further brought to life through an extensive collection of 415 manuscripts dated from 1850 to 1870, of which 39 have been translated from Tibetan to English. These texts contribute to a growing body of literature on Bhutan's history and will serve as a valuable reference for scholars.
The team is now acquiring and commissioning items for the galleries, offering guidance and support to the artists and companies who are contributing their expertise. To preserve and promote the unique basketry techniques that are used to hold treasured items, the team is collaborating with a master Tsharzo weaver, one of the last remaining master basket weavers in Bhutan, to revive this art form and create products for the museum shop. To further immerse guests in the local culture, the Museum will feature a café offering a selection of traditional Bumthang cuisine.
Through this collaboration of passionate conservationists, stories and art forms are being revived for visitors who will gain a deeper understanding of life in ancient Bhutan, the monarchs who lived in the Palace, and cultural traditions that continue to shape the country today.