May 5, 2023
In Paro, a group of young people from Shaba High School have come together to clean a drinking water source in Kisa village. And in the southeastern part of Bhutan, in Samdrup Jongkhar, students from Jigme Namgyel Engineering College have solved an open defecation problem at their local monastery by building seven public toilets. How have these groups managed to coalesce around collective issues so effectively?
Young Bhutanese are increasingly taking collective action to address their community issues, spurred on by Project Citizen – an initiative of the Bhutan Centre for Media and Democracy (BCMD). This project's core is a Gross National Happiness-based Toolkit developed by BCMD with support from Bhutan Foundation and other partners. This new approach to local government planning is enabling citizens to create meaningful and lasting changes in their communities.
Each district in Bhutan is made up of gewogs – communities with their own distinct demographics, economies, and challenges. Unfortunately, local governments have long taken an uninformed approach to planning, leading to a lack of consideration for the unique needs of their communities. Project Citizen updates this traditional view by giving community members a voice in the planning process – and it's working.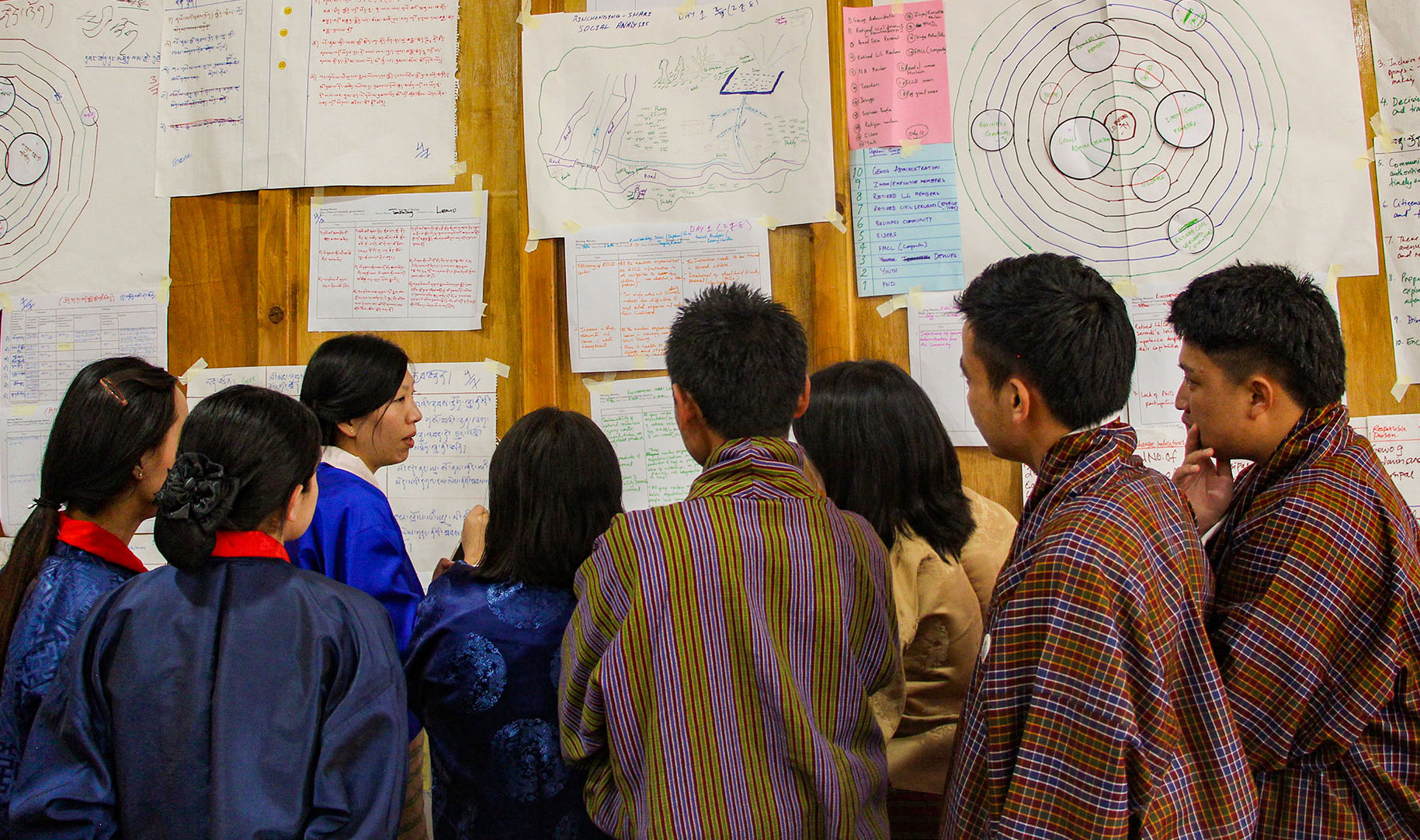 In the aftermath of the pandemic, the country is witnessing a whirlwind of economic, social and political reforms. It's not only a time where Bhutanese are called to come together under a shared identity and mission, but one where creativity, participation and capacity building at the local level are of utmost importance.
Group consultations guided by this new approach have sparked powerful insights among their participants, particularly young people. As Bhutan's social landscape has changed, a growing divide between the challenges faced by young adults and their elders has become apparent. Young people who took part in these trainings were thankful for the opportunity to express their needs and government officials also gained valuable insight into their blindspots, resulting in tangible policy changes.
Since its inception in 2019, over 1,700 Bhutanese citizens have been trained in Project Citizen's participatory planning process, from teachers and elected local leaders, to local government administrators and young people.
As Bhutan recovers from the pandemic, BCMD is bringing Project Citizen to the country's rural districts, where local leaders are often illiterate, demands are higher, and community needs are more complex. With support for this initiative going directly toward training local government officials and residents on the participatory planning process, proactive changes to local government planning are making a huge difference for communities across Bhutan.