October 26, 2021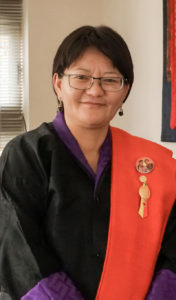 Association of Yale Alumni in Public Health announced the award on October October 21, 2021.
We offer our heartfelt congratulations to Her Excellency Lyonpo Dechen Wangmo, Health Minister of Bhutan and our Advisory Council member, for being honored with the Distinguished Alumni Award from the Association of Yale Alumni in Public Health. This award recognizes the contributions and achievements of Yale School of Public Health (YSPH) alumni who have had distinguished careers in public health.
On 17th December 2020, in recognition of her outstanding service to the Nation, His Majesty The King conferred the Red Scarf, one of the highest honors for Bhutanese civilians. Her Excellency is a passionate public health advocate and social worker at heart. The Hon'ble Lyonpo was also nominated as the President of the 74th World Health Assembly (WHA) by Member States of the World Health Organization's (WHO) Southeast Asia Region in 2020. This one-year appointment is the first time Bhutan has received the honor since it became a member of the WHO in 1982.
Her Excellency is also a founder of Bhutan Cancer Society, a CSO working for the well-being of cancer patients in Bhutan, and a founding chairperson for Lhaksam, HIV positive network in the country. Her Excellency has a Master's in Public Health (MPH) from Yale School of Public Health and a Bachelor's in Cardiopulmonary Science (magna cum laude) from Northeastern University. 
She has been advising the Bhutan Foundation in the areas of public health.