June 6, 2022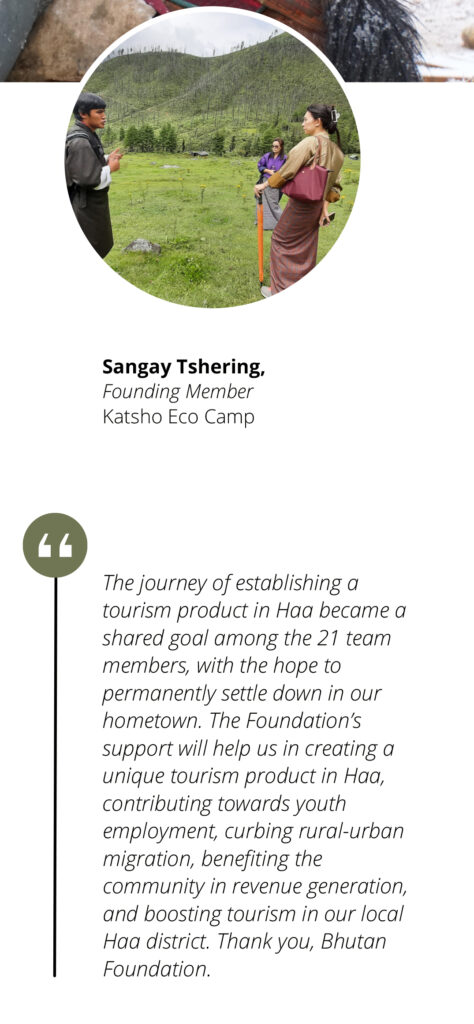 While many affected by the COVID-19 pandemic turned to farm businesses as an alternative income option when the country shut down in 2020, a group of out-of-work tourist guides from Haa in western Bhutan had a different idea: bring tourism back with them. The group, consisting of 21 members, started by developing an 11 km (~6.84 miles) hiking trail called the Haa Panorama Hiking Trail in 2021 with funding support from the local government.
With the popularity of the Haa Panorama Hiking Trail with local Bhutanese, the group realized the full business potential of establishing an eco camp at Damtoe, under Katsho Gewog, as a resting place for travelers. This area is the midpoint connecting all gewogs (sub-blocks), villages, and two significant monasteries of Haa. The campsite, covering an area of around 3.5 acres, is situated at an elevation of about 2,750 m (~9,022 ft.) and promises tourism products like trekking, camping, fly fishing, birding, and cultural visits. The Haa local government fully supported the group by approving their land lease, and the community of Katsho Gewog gave their full support by giving the rights to use the land.
To complement the Royal Government of Bhutan's efforts in supporting affected individuals in the tourism sector, the Bhutan Foundation funded the establishment of the Katsho Eco camp under our Small Grants Program. The project aims to boost tourism in Haa while helping communities gain income and curb rural-to-urban migration. The project also aligns with the local government's vision of Destination Haa: Tourism Action Plan—toward sustainable local tourism development. Haa District receives some of the lowest numbers of tourists in the country.
The Katsho Eco Camp will consist of seven tented camps, offering food and accommodation services for all travelers. To date, the project has provided temporary jobs to unemployed youth. This spring, the team is working on landscaping and wood and stone collection for its establishment, and anticipates the camp will be in full swing before the end of 2022. The Bhutan Foundation is excited to support the reboot of tourism in post-pandemic Bhutan and hopes these projects encourage local and international tourist visits.