April 19, 2021
Farming Tools and Equipment for the Panbang Youth Cooperative (PYC)
When the COVID-19 pandemic hit Bhutan's food system in 2020, the Panbang Youth Co-operative (PYC), a co-operative farming group founded by five childhood friends, quickly initiated the development of 14 acres of farmland to increase local food production. Their team of now 16 youth from the Panbang community worked to cultivate a number of crops, especially green vegetables like chilis, with the Bhutan Foundation's support.
In the midst of the pandemic, the PYC set up two greenhouses along with a water reservoir tank and provided equipment for irrigation of farmland. The Foundation's support also helped procure a farm tractor, seeds, and other farming tools and equipment. Over the winter months, in response to food shortages across the country, the PYC harvested and supplied over 220 kg (485 lbs) of chilis, 30 kg (66 lbs) of tomatoes, 100 kg (220 lbs) of beans, 400 kg (881 lbs) of cabbage, and 800 kg (1,763 lbs) of radishes to the Panbang community at costs far below market rates in cities like Thimphu.
The pandemic revealed a need for the agriculture sector to reassess and increase food supplies through local production. Necessary precautions and restrictions surrounding the pandemic have led to job losses in various sectors, especially in tourism, hospitality, and food and vegetable import industries. This resulted in the layoffs of close to 50,000 employees across Bhutan.
Development of Farmland by Tarayana Foundation
Under the same program to support food security, the Bhutan Foundation supported Tarayana Foundation, a local civil society organization, to work with 249 households in south-western Bhutan. The support includes the development of 36 acres of farmland, setting up proper water supply systems, and organic mulching. All 36 acres of land are currently under cultivation, and produce are expected to hit the market in a few months.
Development of urban Farms by the Lhomon Society
Along the way in south-eastern Bhutan, the Lhomon Society worked with 30 households to produce 300 kg (661 lbs) of beans, 30 kg (66 lbs) of eggplant, 90 kg (198 lbs) of broccoli, 30 kg (66 lbs) of cauliflower, 30 kg (66 lbs) of chili, 300 kg (661 lbs) of cabbage, and 350 bundles of spinach early this spring. Our partners at the Lhomon Society brought 8 acres of farmland under cultivation from the targeted 11 acres, which are now in the process of development. They have also set up 15 urban farms, and 15 portable water storage facilities have been supplied to the farmers. A total of 110 people are currently employed, and 350 households will benefit directly from this program.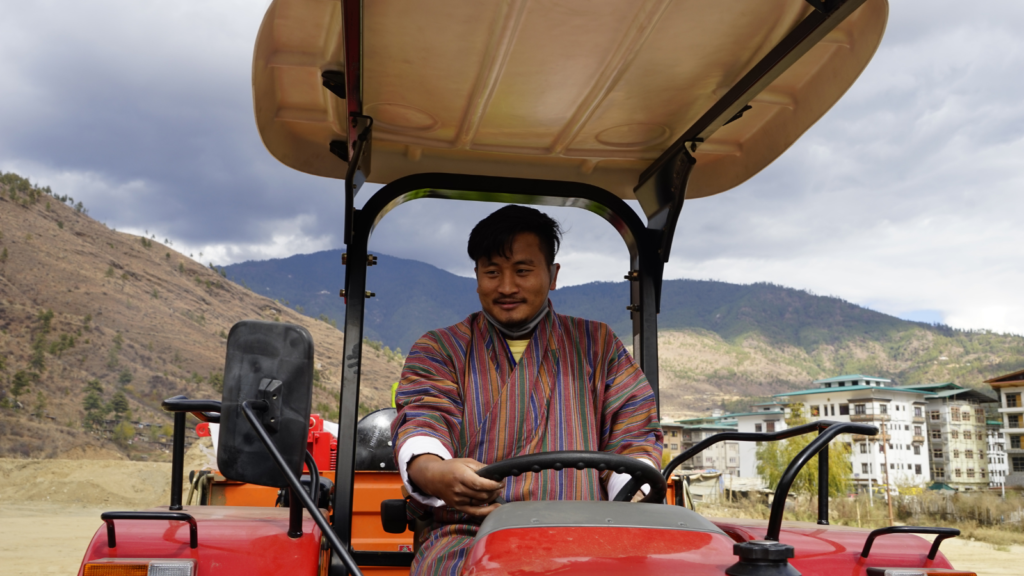 These are big numbers and a great deal of progress has been made in just the past few months, but despite the fact that Bhutan's agriculture sector employs about 57 percent of the population, the country is heavily dependent on imports to meet local food needs. Outside of the pandemic, these numbers could get more dramatic as other issues faced by Bhutan's farming communities today, such as rural-to-urban migration, climate variability, access to water, and poor market linkages, are continued. Our team is hopeful that increasing the support of youth and local communities in agriculture will be a start in the right direction toward sustainable food production in Bhutan.
The timely intervention and financial assistance by the United States Agency for International Development (USAID) during COVID-19 greatly benefitted our partners working with farmers on strengthening food security in Bhutan. The Foundation hopes to expand these types of community-based projects focused on sustainable agriculture in other regions.
Check out more content from the Bhutan Foundation Update 2021 by clicking here!