June 24, 2020
The Bhutan Foundation, upon the command of its co-chair, Her Majesty Gyalyum Tseyring Pem Wangchuck, offered a contribution of Twelve Million Ngultrum to His Majesty's Kidu Fund for COVID-19 through the Office of the Gyalpoi Zimpon. This contribution to the COVID-19 fund is a gesture of gratitude and deep respect for the tireless efforts of His Majesty the Druk Gyalpo for the welfare of the Bhutanese people in the wake of the coronavirus pandemic.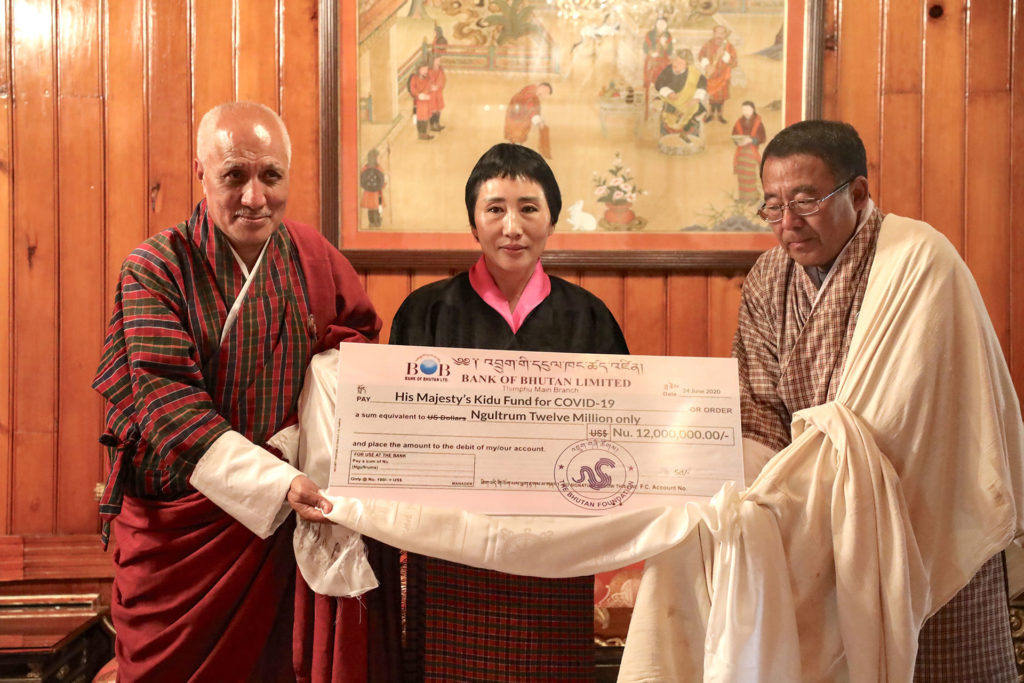 Guided by His Majesty's selfless leadership and the Royal Government's astute actions, we in Bhutan are lucky to be among the few countries where our collective response to the pandemic has been exemplary. Emanating from His Majesty's magnanimity and concern for the wellbeing of all Bhutanese, the Druk Gyalpo's Relief Kidu reaches Bhutanese who were hardest hit by the current pandemic. The Bhutan Foundation hopes that this humble contribution will support much-needed relief efforts.
In addition, the Bhutan Foundation has handed over a 40-foot shipping container with medical equipment and supplies including personal protective equipment to the Ministry of Health in March worth Nu. 1.13 million. Presently, the Foundation is leading the implementation of an award (total US $1 million) from the United States Agency for International Development for Bhutan's COVID-19 response, with $500,000 already obligated for public health strengthening activities and an additional US $500,000 in response activities under design.
The Foundation remains deeply thankful to His Majesty, the Royal Government, and all the frontline workers engaged in daily efforts to keep Bhutan and her people safe.