May 9, 2022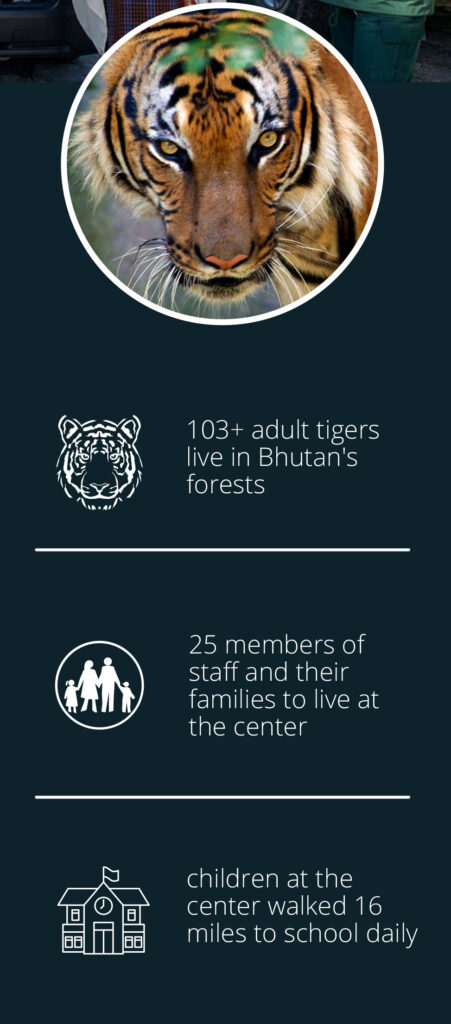 The chance to study tigers in the jungles of Royal Manas National Park (RMNP), Bhutan's oldest park, is a once-in-a-lifetime opportunity for many of the 25 staff at the new Bhutan Tiger Center (BTC). With live-in facilities for families and ample wildlife in Panbang, the teams have been excited to begin work since the opening in August 2021. But concerns about child safety quickly became the number one cause for hesitation for staff as challenges around school for the nearly one dozen children living there became apparent.
Due to the remote nature of the facility, a crucial aspect when studying wildlife in its natural habitat, children living within the Park with their families between 6 and 15 years of age were forced into a difficult commute to school. Each day, the children walked nearly 16 miles to and from school through the jungles of the RMNP. This journey added hours of travel time and left the children vulnerable to monsoon rains and dangerous wildlife such as wild elephants and snakes.
In response to the concerns of parents and staff at BTC, the Bhutan Foundation supported the purchase of a minibus to provide a safe, comfortable, and convenient journey for the children of families working at the new headquarters. This support will not only shave off hours of travel time, but also ease worries of parents as schools in Panbang begin to open in earnest this April, 2022.
At an official ceremony this past December, the minibus was donated to the Department of Forests and Park Services. The children are thrilled about their new bus and are looking forward to reliable and safe transport in their next academic season. This was possible thanks to the support of all the donors and supporters of the Bhutan Foundation.